---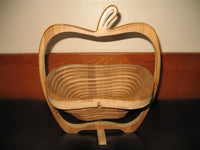 Natural Bamboo Collapsible Basket (Delicious Apple) w/ Bonus
LexaLu
Natural Bamboo Collapsible Basket (Delicious Apple) with Bonus. With its simple design, this bamboo caved basket will brighten your room with a touch of nature. Spiral-cut design with a unique foldiing feature, collapsing flat to be used as a handy trivet on table, to be hung on the wall as a piece of wood art, or to be conveniently stored away for travel. Ideal to display fruits, pastry, potpourri, dry flowers, or anything to your taste. Material: caved bamboo. Color: natural bamboo. Design: Delicious Apple. Size: 12"Lx10 1/2"W; basket internal: 8 3/4" x 7 1/2".
Bamboo is one of the fastest growing plants on earth. Naturally replenishing with its dense quality, it is an eco-friendly, renewable and versatile resource, and a sustainable green alternative to hardwoods.
 A Limited Time Bonus Offer: Bamboo Trivet/Coaster and Microfiber Towel Gift Set. 1. This gift set contains a set of 2 bamboo trivets/coasters and 2 microfiber towels. 2. Bamboo trivets/coasters are made of premium quality bamboo, designed for function and style.  Pattern: assorted. Color: natural, multi. Size: 5 7/8" square. 3. 8" square Ultra Absorbent Microfiber Towels. These multi purpose cloths clean glass, furniture, or any applicable surfaces like nothing else. Each towel is individually packed in a 4"x10" reclosable 2 Mil zipper bag. Color assorted. Gift Pak.
More on Bamboo Block Trivets / Coasters Sleek Contemporary.  The beautiful natural bamboo block trivets / coasters are made of natural, strong, dense quality bamboo.   These trivets come in handy in the kitchen or on the breakfast and dinning table. They carry a nice weight and can be multi-purposely used as trivets or coasters.  With each block in an interesting gourd plant shape, it has Asian flare and Zen feel to it.  The set will decorate and streamline your dinning table and space with simplicity and functionality.  These mats can also be, individually or jointly, placed on the top of a stand or a side table for their functionality and decoration.   Easy to clean.  Design: gourd or calabash plant.  Material: bamboo.  Color/pattern:assorted.  Size: 5 7/8" Square.