---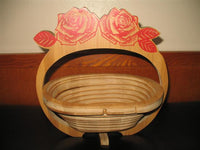 Natural Bamboo Collapsible Basket (Rose is Red)
LexaLu
Natural Bamboo Collapsible Basket (Rose is Red) is featured in Bust (www.bust.com) p24 Dec/Jan 2013 - Unexpected items made from the world's most sustainable, fastest-growing grass.  Put some organic fruit in this girly basket.
Hard to find a romantic piece of kitchenware?  Maybe this is the answer - simply the Rose is Red.  It presents twin roses -- a perfect romantic gift. This bamboo caved basket will surely bring the smile on that special someone's face.  Spiral-cut design with a unique foldiing feature, collapsing flat to be used as a handy trivet on table, to be hung on the wall as a piece of wood art, or to be conveniently stored away for travel.  Ideal to display fruits, pastry, potpourri, dry flowers, or anything to your taste.  Material: caved bamboo. Color: natural bamboo. Design: Rose is Red. Size: 11"Lx10 1/2"W; basket internal: 8 1/2" x 6".
Bamboo is one of the fastest growing plants on earth.  Naturally replenishing with its dense quality, it is an eco-friendly, renewable and versatile resource, and a sustainable green alternative to hardwoods.