---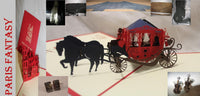 Virtual Travelers - Paris Fantasy (7 Items)
LexaLu
Virtual Travelers - Paris Fantasy.  One of a kind creation!  For the couple who love to travel -- If you ever fantasize about being in Paris, this is one quick way to explore it, and it may bring memories closer.  You will treasure these items for years to come.  Gift pack! containing 7 amazing items. The picture here does not represent complete or exact items.  It includes the following items:
- 2 X 3D Papercuts Cards: 1x3D Papercuts Notre-Dame de Paris & 1x3D Papercuts Double Horses-Drawn Carriage Card. These are modern 3D papercuts mini statues made into a card. 
Notre-Dame de Paris, French for "Our Lady of Paris", also known as Notre-Dame Cathedral or simply Notre-Dame, is a historic Catholic cathedral on the eastern half of the Île de la Cité in the fourth arrondissement of Paris, France. The cathedral is widely considered to be one of the finest examples of French Gothic architecture and among the largest and most well-known church buildings in the world. The naturalism of its sculptures and stained glass are in contrast with earlier Romanesque architecture.
- 1 themed painted bottle
- 1 scarf
- 1 party purse
- 1 pair of cuff links
- 1 wall art featuring the lady and the unicorn - love and senses