---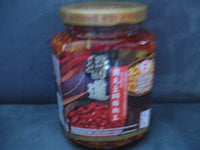 Fresh Chili with Fermented SoyBean
LexaLu
Fresh Chili with Fermented SoyBean. A few drops go a long way.  Add a few drops to stir-fried or steamed rice, vegetables, meats, salads, soups, noodle dishes, noodle soups if spicy dish is desired.  Weight 330g (11.6oz) Ingredients: fresh chili, fermented soybean, soybean oil, sugar, salt, malic acid, citric acid. See pack for complete information.
LexaLu "To Make a Delicious Meal or Snack" Tips:                                                                                                                                         - - Dried Tofu (model LF000008d, see below) can also be further sliced to be cooked with vegetables or pickled vegetables, adding sesame oil or soy sauce if you like.
- Use Fresh Chili with Fermented Soybean Sauce instead of seasame oil if spicy dish is desired.  Add chopped green unions at last.  A delicious dish to go with rice or porridge for breakfast, lunch or dinner.
The dried tofu texture will become softer after being heated up in microwave or cooked or dipped in hot water.
Use Fresh Tofu intead of Dried Tofu for a fresh tofu dish.  Starch for texture if desired. Add chopped green unions at last.